History Of The Getty Center
History Of The Getty Center, in Los Angeles, California, is a campus of the Getty Museum and other programs of the Getty Trust. The $1.3 billion Center opened to the public on December 16, 1997 as this center takes pride in making its collection completely safe from any hazards.
CENTER FOR PHOTOGRAPHS
This is one of the sections that you would not want to miss. The Department of Photographs at the J. Paul Getty Museum holds one of the finest collections of photographs in the world, with about 36,500 individual prints, over 2,500 daguerreotypes and other cased objects, 30,000 stereographs and cartes-de-visite, and 475 albums containing almost 40,000 mounted prints. These are not some pictures but the reactions which are captured during some exact moments. Like rare manuscripts and drawings, these light-sensitive photographic works can't be on permanent display. Rotating exhibitions from the collection are displayed in the 7,000 square-foot Center for Photographs in the West Pavilion. The environment of the center which displays the collections are also centered to depict the exact feel of the pictures. Josef Koudelka: Nationality Doubtful marked the first time that the work of one contemporary photographer filled the Center for Photographs. This is a place where you can see a some good collections from across the world.
Central Garden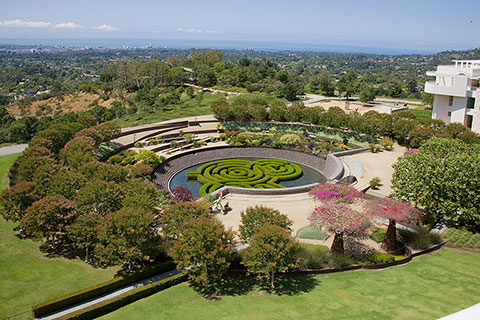 It is no doubt that the central garden is one of the main attractions of the Getty Center. Give your nose something to smell, your eyes something to admire, and your feet something to explore when you soak in the glorious ever-changing work of art that is the Central Garden at the heart of the Getty Center. This is also specially designed to match the Getty Center. Created by artist Robert Irwin, the 134,000 square-foot Central Garden is the perfect place to spend a sunny afternoon, with tree-lined paths, peaceful sanctuaries and more than 500 varieties of plants to enjoy. Whether cactuses, fountains or shaded spots are your favorite, the lush Central Garden offers visitors an escape from the city's bustle and a banquet for the eyes. It is one of the open area garden which you cannot forget the site once you see it.